Size of the P. gingivalis genome
The genome size of P. gingivalis strain W83 was determined by digestion of genomic DNA with Xba I (TCTAGA) and Spe I (ACTAGT) which previously had been found to yield a small number of large restriction fragments separable by pulsed field electrophoresis (Fraser and Duncan, 1992). Pulsed field gel electrophoresis of chromosome digests were carried out using a Bio-Rad CHEF DRIII with run conditions determined by the CHEF Mapper. Gels were run under a variety of conditions to resolve poorly separated bands. Fragment sizes were estimated by comparison with the mobility of lambda concatamers and low molecular weight markers. From the Xba I digests the genome size was calculated to be 2,176 kb, and 2,250 kb from the Spe I digests.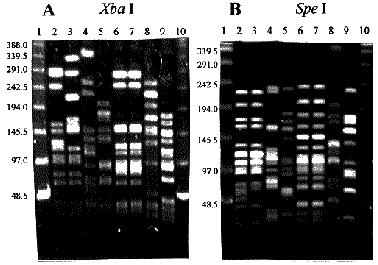 PFGE of Xba I- and Spe I-digested DNA from P. gingivalis strains. Lane 1, Lambda concatamers: 2, strain 381; 3, 33277; 4, A5B3; 5, A7436; 6, W83; 7, HG405; 8, ITA-1; 9, W50.